Getting tired of GPU Prices holding you back from making a Good Gaming PC, That Can-Do Content Creation along with Streaming, oh and comes with a dedicated video encoder – psst the 5600G Can be your bread and butter.
Speaking of what you get from These new Cezanne APUs feature the latest Zen 3 architecture paired with AMD's Vega graphics, mainly tailored towards customers interested in building ultra mini portable PCs or DIY PCs. It will run AAA games smoothly, which we will discuss later in the article, so read till the end. After three long generations, AMD is finally replaced the older 12nm processes with the latest 7nm ones for better stability, thermal performance, and boost clocks but maintaining a much lesser TDP, thus producing less heat.
What Makes the 5600G an Absolute Beast in Every Way
The Processor Packs in a Lot of Punch, considering it's a 6 Core 12 Threaded one with a Very Strong I-GPU, and Is Currently Retailing for Approximate 23,000 Indian Rupee at Online Stores In India, Such as MD Computers, Vedant, Prime ABGB and More.

Technical Advantages
Huge gains in low-threaded applications vs. previous APUs
Considerably Higher Base Clock Regardless 65W TDP – 3.9 GHz
Excellent Performance Per Watt with TSMC 7nm FinFET
Integrated Vega 7 GPU with 7 Compute Units at 1.9 GHz
Better Gaming Performance with Single large CCX (CPU core complex) rather than being split up into two 4-core CCX.
Many games playable with Vega 7 IGP
Multiplier Unlocked
Built in Video Encoder – VCN 2.2 (Video Core Next)
The Vega 7 GPU Is More Useful than the Recently Released DOA RX 6500XT Which Didn't Include a Built in Video Encoder, People Looking to Stream.. Cant even do that with it..
Performance Analysis
Armed with a 6-core/12-thread CPU based on the latest Zen 3 microarchitecture, the 5600G is sufficiently faster than the previous-generation Ryzen 5 3600 to qualify as a generational upgrade. It is consistently faster in low-bandwidth, less-parallelized, math-heavy tasks; take tests such as Real world Gaming which highlight the IPC increment Zen 3 brings to the table. That's not all, as it is able to beat all Intel processors with "Skylake/X" derived CPU cores, including the 10th Gen Core i9-10900K. Even with multi-threaded compute-intensive tests, such as Cinebench R23, We see the 5600G Perform Wonderfully,

This show us the importance of generational IPC uplifts, where Zen 3-based AMD chips are able to overcome the deficit of two cores (25% of number-crunching machinery) and go on to beat 8-core Intel chips.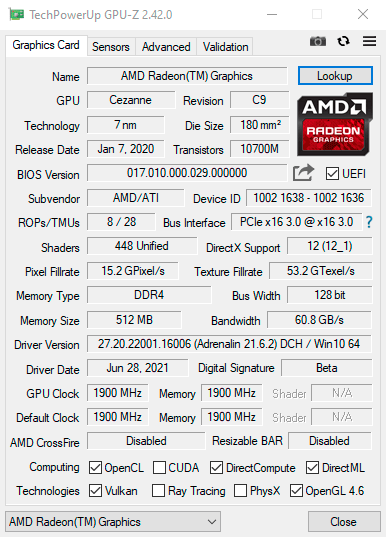 Gaming Performance Vs Core i5 12600K (With IGP – Intel UHD 770 vs Vega 7)
Credits – Benchmark YT
Test System Configs
AMD Ryzen 5 5600G + Radeon Graphics 7
RAM: 32GB DDR4 3600MHz (2x16GB) CL16
ASUS PRIME X570-PRO
intel Core i5-12600K + UHD 770
Asus ROG Maximus Z690 Hero
RAM: 32GB (2x16GB) DDR5 5200 MHz CL40
Samsung 970 EVO Plus SSD 1TB
Windows 11 latest update
Conclusion
The Ryzen 5 5600G is a formidable chip for workhorse productivity apps, such as Office, Photoshop, After Effects, where it strikes a balance between generational IPC uplift and low cost due to its 6-core thread count. The 5600G is all the silicon you'll ever need if you're building a machine to handle office work. Compression and encryption tasks are faster on the 5600G than older-generation chips with more cores.

such as the i7 7820x, and the 5600G catches up with 11th Gen Core i5 chips. Although the 12th gen Series are a Tad bit faster than the 5600G still with that price-tag and considering motherboard prices, this CPU just checks every boxes that a gamer needs to fulfil.