AMD Rumored to Launch The New RX 6X50 Series For $130 Only – RDNA 2 Refresh
AMD could be preparing a Radeon RX 6000-series RDNA 2 Refresh for release later this year, multiple leakers say. Not much is known about this refresh, nor what it could mean for the current lineup, though it may act as a stop-gap solution before graphics cards based on the RDNA 3 architecture roll around.
Reports reference the update: one from Twitter leaker Greymon55
The RX 6500 is expected to be priced at around $130 US which will make it at least $70 US cheaper than the RX 6500 XT but we will have to see whether clocks are configured similar to the RX 6400 as there's a 500 MHz difference between the 6500 XT and the 6400 and that's mainly due to no external power connector (53W TGP). The card would pack 768 cores and a 4 GB GDDR6 memory across a 64-bit bus interface plus 16 MB of Infinity Cache.
RX 6X50 Series The Actual $130 RDNA 2 Refresh Rumored and More !
AMD Radeon RX 6500 Non-XT RDNA 2 Graphics Card
The leaker also states that AMD is working on a brand new graphics card within its Radeon RX 6000 lineup which will be based on the 6nm Navi 24 GPU core. This graphics card will allegedly be called the Radeon RX 6500 (Non-XT), Which Should Look Good When Compared to The 6500XT and will simply be the DIY launch of the Radeon RX 6400.
It would've been worthwhile if AMD has given its existing desktop GPUs the 6nm treatment and managed to get more performance efficiency out of them but that isn't happening, however, there have been several rumors of such a lineup launching later this year. It looks like this soft rdna 2 refresh is going to be a very silent release and will only come specifically via AIB cards.
There would also be a small price difference and the TGP numbers are expected to go up slightly with the addition of the faster memory chips. These GPUs will likely compete with Intel's high-end ARC Alchemist GPUs that are launching in a few months.
Linux Patch Suggest: Further RDNA 2 Refresh
Before we get to the Linux patch, let's go over AMD's current generation lineup. The Radeon RX 6000 series on the desktop consist of the following models…
Radeon RX 6900 XT: Navi 21 XTX
Radeon RX 6800 XT: Navi 21 XT
Radeon RX 6800: Navi 21 XL
Radeon RX 6700 XT: Navi 22 XT
Radeon RX 6600 XT: Navi 23 XT
The AMD Navi 21 and Navi 22 GPUs are the ones that will be refreshed for the upcoming Radeon RX 6X50XT lineup. The AMD Navi 21 GPU currently powers the Radeon RX 6900 XT, RX 6800 XT & RX 6800 while the Navi 22 GPU powers the RX 6700 XT on the desktop platform.

So if AMD was to use a similar GPU naming convention as their mobile lineup, then their replacements coming in Q2 2022 are going to be known as the Radeon RX 6950 XT, RX 6850 XT, RX 6750 XT.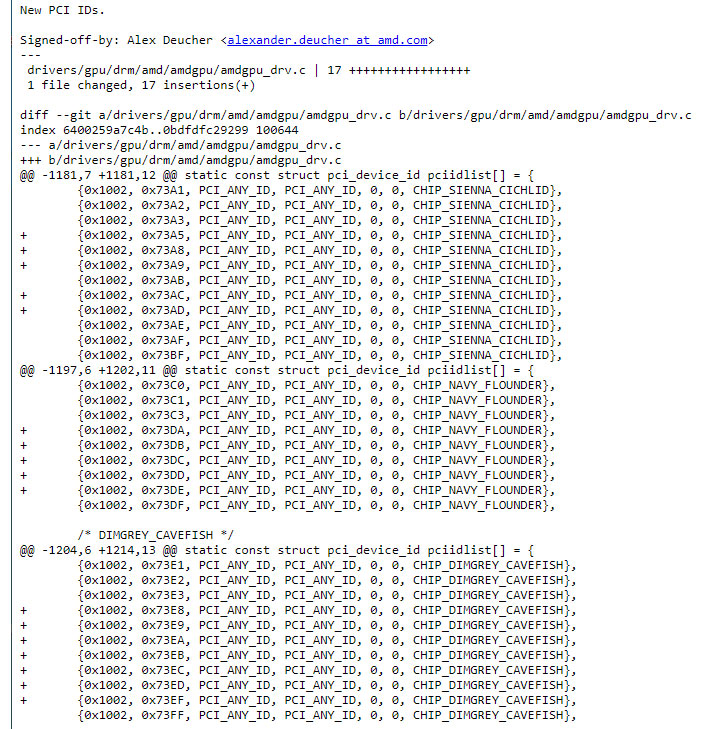 There's obviously room to introduce lower end models, as well as possibly inject a regular (read; non-XT) Radeon RX 6700 into the mix, when and if AMD decides to go those routes. But in addition, AMD could also introduce refreshed RDNA 2 models based on TSMC's 6-nanometer manufacturing process. Whether that happens or not, we can't say for sure. But that is where the Linux patch comes into play.
AMD's driver team added 17 new device IDs to the latest Linux kernel patch. These are spread across Sienna Cichlid (Navi 21), Navy Flounder (Navi 22), and Dimgrey Cavefish (Navi 23). You can see them above, but here's the breakdown…
Sienna Cichlid (Navi 21): 0x73A5, 0x73A8, 0x73A9, 0x73AC, 0x73AD
Navy Flounder (Navi 22): 0x73DA, 0x73DB, 0x73DC, 0x73DD, 0x73DE
Dimgrey Cavefish (Navi 23): 0x73E8, 0x73E9, 0x73EA, 0x73EB, 0x73EC, 0x73ED, 0x73EF
There are multiple places these IDs could show up. For example, they can pertain to custom models by AMD's add-in board (AIB) partners that have not yet been released. And it is entirely possible (even plausible) that at least some of them will end up there. Same goes for possible new revisions of existing GPUs.
However, it is a bit unusual to see so many new device IDs emerge at this stage. Hence why there is speculation that some (probably not all) of these new IDs could apply to an RDNA 2 refresh.

It's worth noting that last week, a hardware leaker suggested AMD will use a mix of RDNA 3 and RDNA 2 GPU'S. As it applies to RDNA 3, it's said we are looking at Navi 31 for the Radeon RX 7900 XT, Navi 32 for the Radeon RX 7800 series, and Navi 33 for the Radeon RX 7700 series, all built on a 5nm node.
Meanwhile, the leaker said refreshed version of RDNA 2 based on 6nm will be thrown into the mix, including Navi 24, Navi 23, and Navi 22 GPUs. Whether that actually happens or not remains to be seen, but the updated Linux patch suggests there could be truth to the rumor.