Ever since Intel Alder Lake hit the shelves, AMD's answer is simply the Ryzen 7 5800x3D but an answer only for only a selected range of audiences why? We will get to that in a moment.
AMD has been teasing their stacked 3D architecture since quite a while – link to the covered article
In my articles of early performance analysis and Ryzen 5000 series refresh, I have covered the processor in brief details on basis of validated leakers, but it seemed the results were actually true.
Ryzen 7 5800X3D Specifications
The CPU has an entirely new Cache design and has around 96MB of L3 Cache, don't let the numbers fool you, the CPU is rated at 105w TDP, but has a boost clock of up-to 4.5GHz which is around 200 MHz Lesser when compared to the Ryzen 7 5800X, and A Base clock of 3.4 GHz which is also around 400 MHz lower

Technical Details
Single CCX Design
AM4 Socket Compatibility with existing motherboards
Number of Cores – 8
Number of Threads – 16
Maximum Boost Clock – Up to 4.5 GHz
Base Clock – 3.4 GHz
L2 Cache – 4MB
L3 Cache – 96MB
Although the 3D Chip-Stacking can Triple the L3 Cache on Ryzen can triple L3 cache on a Ryzen, but how much it favors in content creation workload is a questionable factor since you are buying this CPU I digress that you would be only gaming in it.
In reality the "Zen 3" CPU core has lost the IPC edge to Intel's new Golden Cove performance core (P-core) powering the 12th Gen Core Alder Lake lineup, so running a 5800X at insane clock speeds at the expense of efficiency and throwing out the 105 W TDP would have meant AMD repeating a long line of "Black Edition" SKUs, reflecting badly on the engineering prowess AMD built up over the past couple of years. The company had to do something different, which it has by including 3D Vertical Cache.
Ryzen 7 5800X3D Performance Analysis (Techpowerup)
AMD claims that the large 3D Vertical Cache not only improves performance of multi-threaded workloads with large streaming data sets, such as video-encoding, file-compression, etc., but also has a huge direct impact on IPC, with single-threaded and gaming performance improvement claims in the range of 6 to 25 percent. This is akin to a generational IPC improvement, while AMD is still on Zen 3.

AMD is so confident about the performance gain from 3D Vertical Cache that the 5800X3D runs at a lower clock speed than the Ryzen 7 5800X. Another possible reason for that is that the 3DV cache runs at the relatively low maximum voltage of 1.35 V, which is shared with the rest of the CPU die and thus limits the maximum boost clocks, which require higher voltage.
Ryzen 7 5800X3D Synthetic Benchmarks
Superpi: It is a purely single-threaded CPU test that calculates Pi to a large number of digits—32 million for our testing. Released in 1995, it only supports x86 floating-point instructions and thus makes for a good test for single-threaded legacy application performance.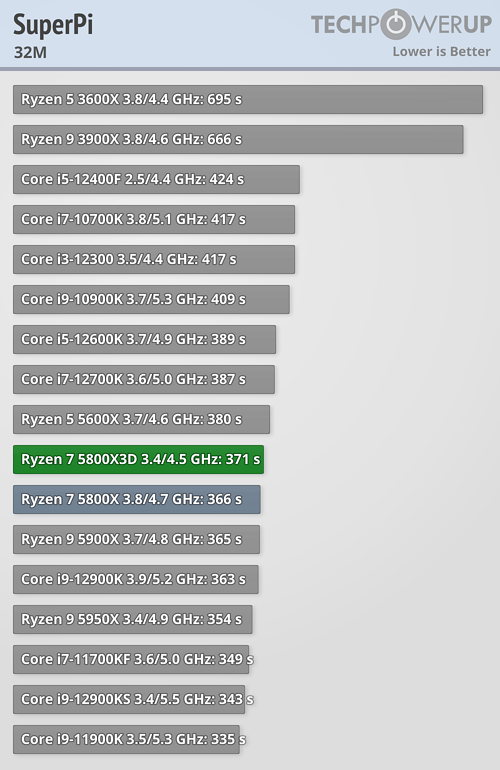 Ryzen 7 5800X3D Cinebench R23
One of the most popular modern CPU benchmarks because it is built around the renderer of Maxon's Cinema 4D software. Both AMD and Intel have been showing this performance test at various public events, making it almost an industry standard.
Ryzen 7 5800X3D Rendering and Media Encoding Benchmark
Starting with Well known Blender, Blender is one of the few professional-grade rendering programs out there that is both free and open source. That fact alone helped build a strong community around the software, making it a highly popular benchmark program due to its ease of use as well. For the testing, the scene used is "BMW 27" benchmark scene with Application version v2.92.
Nowadays, all video that is consumed, whether on TV, physical media, or streamed over the internet, is compressed using various codecs. AV1 is a next-generation video codec that is open and royalty-free, unlike other recent new video compression algorithms. Major industry players like YouTube, Netflix, and Facebook stand behind AV1 and are gradually rolling out support for the new format. Compared to older algorithms, like H.264, MPEG-2 and more. the compression rate is much better, or you can achieve better image quality for a given bitrate
Ryzen 7 5800X3D Gaming Performance Analysis
I get it 3D V-Cache is a new innovation, it's a silicon die that consists purely of cache memory, But A typical modern computer has 16 GB or 32 GB of memory, cache sizes are between 10 MB and 64 MB, so roughly a thousandth (!). On the Ryzen 7 5800X3D, the cache size is 96 MB, as opposed to 32 MB on the Ryzen 7 5800X. This 64 MB increase might not sound like much as even your phone can download that much data in a few seconds, but it still has the potential to make a big difference.
The CPU Falls behind the Original 5800X because the 5800X3D runs with lower clocks than its sibling, also AMD confirmed that the 3D-Vcache is limited to only 1.35v which clearly showcases a power limit
The Ryzen 7 5800X3D is a no go when it comes to content creation as the previous iteration is way better when it comes to media encoding and using single threaded applications that rely on frequency – such as photoshop
Pro's and Con's – Should You Really buy?
The CPU is an excellent choice for gaming since it's a single ccx based design and the new cache hierarchy is actually helping a lot in games, most of them if not all, It seems games are an ideal workload for higher cache sizes, which is probably why AMD has been shipping their Ryzen processors with relatively large caches compared to Intel even though cache takes up a lot of silicon die area, which costs money. Averaged over our 10 games at the CPU-bottlenecked 720p resolution, the Ryzen 7 5800X3D can gain an impressive 10% in performance over its 5800X counterpart.

This is enough to make it the fastest gaming CPU right behind the Intel Core i9-12900K and i9-12900KS. Considering Intel's Alder Lake comes with a new and improved core architecture, runs almost 1 GHz higher, and has faster DDR5 memory, this is an impressive achievement, the answer in India to the 100$ more is still a no from my end, intel has way better offerings, yes power draw is huge in intel but from performance standpoint, 12th gen is takes the cake.
The Pro's
Nice gaming performance gains, reaches parity with Alder Lake
Compatible with existing Socket AM4 motherboards
Power limits not increased
Very energy-efficient like ryzen tends to be
Single CCX design helps in gaming
7 nanometer production proces
The Con's
Lower clocks than regular Ryzen 7 5800X
Small application performance losses, looses to 5800x sometimes
No overclocking
$100 price increase over 5800X
CPU cooler not included
No integrated graphics
Better offerings by Intel